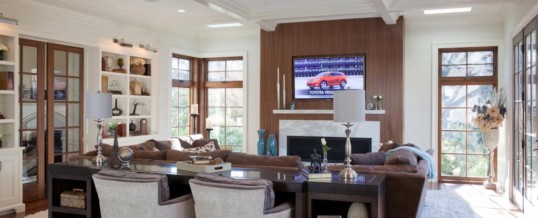 Can you believe it? Fall is right around the corner. It's been quite the Summer here in Massachusetts, but – to be completely honest, I'm dreaming of some incredible Boston Fall interior design trends that I just can't wait to share with you.
I've been spending much of my Summer researching some of the latest interior designs trends that are going to hit the East Coast for the Fall and Winter. I have many clients interested in starting some home design renovations from kitchen design to adding new color on their walls. Whether it's big or small, home renovations can come in various forms; rest assured you don't need to have a full-scale home upheaval to achieve your dream. In fact, some of the smallest home renovations can make the greatest impact, depending on the room and overall look and feel of your home.
So, if you're looking to make some changes around your home, check out my top Boston Fall interior design trends for this 2016.
Mixing material and tones in your kitchen is what we're after.
When it comes to combining various finishes in your kitchen, I'm all about mixing and matching.
From wood finishes (who could have imagined mixing dark and medium-tone woods?) to different metals, and even different pieces of hardware, it's so easy to make this change in your kitchen. If you're looking for a small renovation change that can make a big difference, try some mixing and matching of kitchen cabinet handles in your home. From brass to silvers, from golds to metallic, it's an easy change that can make a big difference.
Kitchen back-splashes are a must.
Subway tiles are still great for a kitchen and very clean. But let's step it up a notch, I love the idea of using mixed material and textures. Combining glass and marbles, mirrored with metals or any textured tile like crackled glass. You can even take it a step further a custom design you backsplash with mosaic tile combined with laser jet marble.
When it comes to Boston Fall interior design trends, it's important to incorporate an East Coast feel with darker, but modern palettes. My recommendation would be to find tiles that you love in your local kitchen and tile store, bring it home for one week (to see if you can live with it!) and make your decision based on how it feels in your home.
Neutral Fall palettes are ideal.
As much as I loved bright, vibrant colors in the Spring, it's time to make a change.
Neutral Fall palettes are ideal for the Fall. Look for palettes that are both soothing and calming – think greys, blues, light hues and even creme variations. Neutral palettes are also so easy to match with the existing furniture in your home (because really, anything goes) so it's a great option for home owners.
Great Rooms are back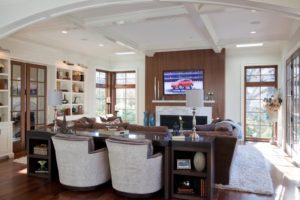 If you know me, you know how much I love Great Rooms.
Great Rooms are oversized family rooms with the ultimate comfort. Think of large family furniture, like couches, warm lighting, your favorite smart television playing a comforting family movie and the scent of fresh baked goods in the oven.
Great Rooms are the go-to for families to spend time with one another like family game night, movie night or even just hanging out, so make yours comfortable this Fall.
PS: The shag is back. If you spot a gorgeous shag rug in your local home interior store, grab it. They'll be gone as we get closer and closer to the Fall.
And my personal favorite – colored hardwood flooring is here.
I'm closing out this list with my personal favorite trend for Fall 2016 – colored hardwood flooring. From greys, chocolates, cremes and more, colored hardwoods is so great for the upcoming season.
Why? It adds uniqueness and personality to your home, while giving it a form of style and inspiration that you'll love. It also compliments various furnishings so well. Picture how gorgeous a chocolate-painted hardwood floor will look with your shag rug and neutral side tables? Amazing.
---
As much as I love the Summer, I'm waiting with anticipation for the latest Boston Fall interior design trends for 2016. As you're preparing your home for this new season, consider neutral palettes, kitchen back-splashes and colored hardwood as ideal renovations for your home. And remember – renovations don't need to be large in scale. You can make simple changes in your home that will deliver a large impact.
Share