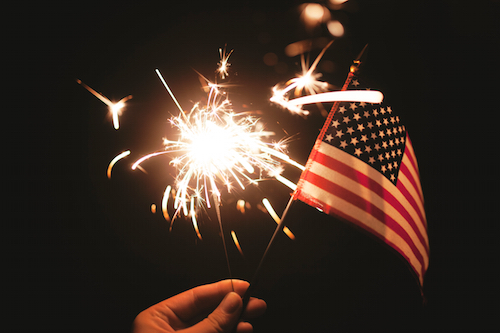 MDK Design Associates shares 8 decorating tips for the July 4th holiday to help get your homes ready for a week filled with celebration, decoration and outdoor activities. The 4th of July – Independence Day – commemorates the adoption of the Declaration of Independence on July 4, 1776. This is the day that the thirteen American colonies formed as a new nation, which became the United States of America, no longer part of the British Empire. In our present day, the 4th of July is a significant holiday celebration, with 219 million Americans expected to celebrate, spending a whopping $7.1 billion on barbeque goods, decor and more. Wow!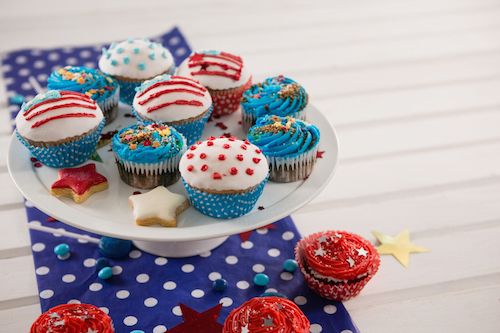 If you are one of the 219 million Americans who are taking part in 4th of July celebrations, we have the decorating resources you need to ensure your Holiday decor is the talk of the block.
8 Decorating Tips for the July 4th Holiday
1. Brighten up your beverages
We love everything about swizzle sticks, which are stir sticks with a twist. These glittering star-topped sticks from Crate & Barrel are especially great – or you can make your own. Simply grab small wooden sticks from your local craft store and glue on a cute top, like these gold and silver stars, or little US flags. Place them on your dinner tables or bar tops to let your guests add a little decor to their beverages.
2. Florals, everywhere!
You can't skip out on 4th of July florals, right? A patriotic bundle of flowers as your guests enter your home can set the stage for what is to come. Find florals like anemones, alliums (deep blue, of course) and phlox. They're great in the heat and they are simply beautiful.
3. Fence flags for outdoor barbeques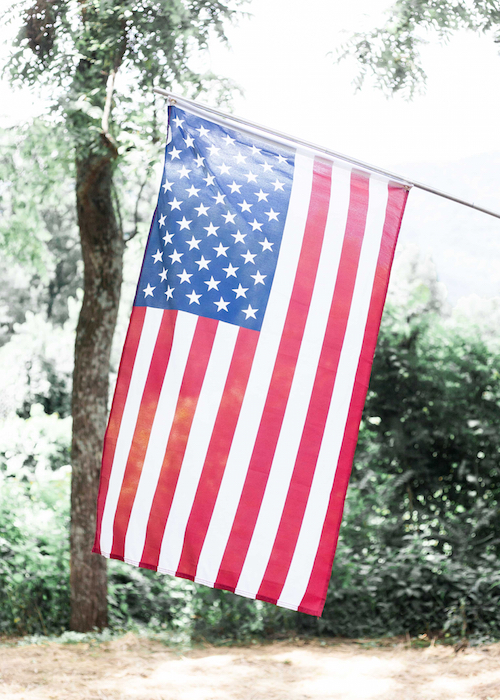 So simple, so affordable – and available on Amazon!
We found this flag banner string than can be added to your outdoor fence in a flash, and it's under $15.00.  This is so cute and so easy that can be placed everywhere, from the aforementioned fence to the dinner table.
4. Get the crafts ready for the kids
If you have kids joining you for your outdoor barbeque or indoor dinner, it's important to get crafts ready for the little ones. One of our favorite crafts for the kids is to make place cards for dinner time. Grab some red, white and blue stationary from the craft store, some themed stickers and washable felts. Assign your kids with the task of finding a spot at the dinner table for each and every guest, and thoughtfully write out their name for each place card. It's a great way to get the little ones engaged during dinner time.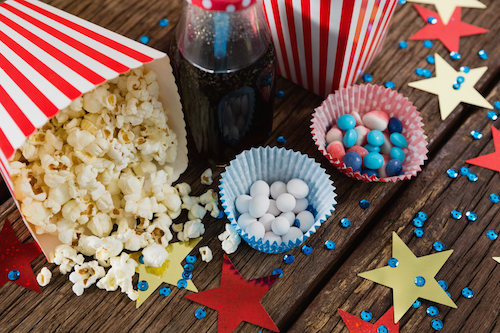 5. Bring out the table runner.
Patriotic table runners don't have to come in the form of red, white and blue; instead, we love a table runner like this that can act as a foundation to build your table. Build from this to include red dinner napkins, the glittering star-topped sticks (see tip #1), silver cutlery, and complete with some red, white and blue sparkle to place across the table runner.
6. DIY flower pots
We love this stars and stripes patriotic flower pot from Lolly Jane.  All you need to do is grab a 10" flower pot, foam brushes, red, white and blue outdoor paint, and (optional) vinyl lettering stars. Paint the entire flower pot white, let dry, then add two red stripes. On the top of the pod, paint this blue and add your stars. So easy!
7. Lantern jars for the evening time
If you're having an outdoor barbeque, lantern jars are sure to make your outdoor space feel cozy. Grab the most simple, clear lantern jars you can find (they can even be mismatched!) and fill the bottom with sand. Place a faux candle inside and you're ready for the night to begin.
8. Head home with a patriotic goodie bag.
Your guests will love to head home with a patriotic goodie bag, one that they can enjoy well into the week. From sugar cookies tied with blue and red ribbon, to red and blue lollipops, or even a personal note from you, the host.
With the holiday right around the corner, these 8 decorating tips for the July 4th holiday are sure to help create the party of the Summer in your very own backyard. Need more than 8 decorating tips for the July 4th holiday? Contact MDK Design Associates for more decorating ideas. From MDK Designs to you and yours, Happy 4th of July!
Share