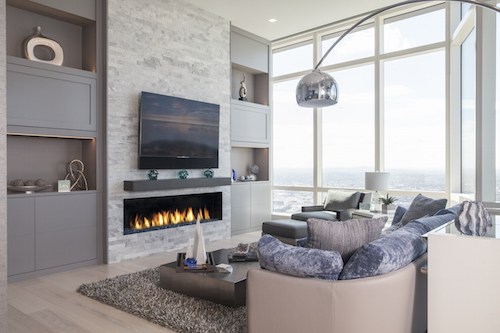 With the New Year comes anticipation and thoughts about how to update your home during winter. As we spend a lot of time indoors, we think about both our personal passions and ways to update our home decor. There is anticipation around resolutions set for ourselves, the wonder of what lies ahead in the calendar year and a sense of new visions for our home. As I was watching 'Tidying Up with Marie Kondo' on Netflix just the other day, I was thinking about these visions myself; creative ideas and home decor trends for 2019 that can be brought into client homes without buying new stuff. Simple additions can make a big difference.
Here's how to update your home for 2019 – no renovations needed
You might not have the passion for a full renovation in the middle of winter. Less than sixty days to spring but who's counting? Warmer spring and summer months offer greater possibilities for full-scale renovations. There are a few things you can do indoors that can make an impact while we are waiting for another New England winter to pass by.
So, I've included my tips on how to update your home this year without renovations. New year, new home as I like to call it.
1. Update your fireplace with new tile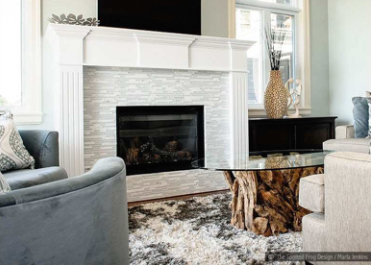 Beautiful, clean tile is continuing to be a trend in 2019. Stone and marble, are popular additions for a fireplace design. We have seen the advent of white backsplash and expect the trend to continue this year. There are plenty of options for such tile. From ceramic mosaic tiles to porcelain alternatives, the opportunity is nearly limitless. Updating your fireplace with new tile is simple but an impactful way to update your home.
Related: Interior Design Color Trends for 2019
2. Paint your ceiling!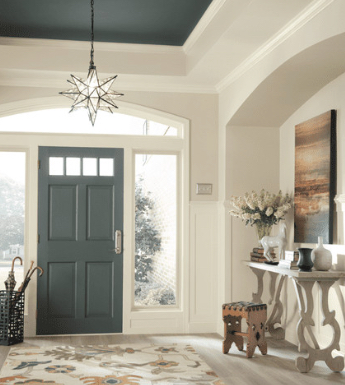 All you need is paint! Make a splash in the living room with a new color paint or accent wall. Consider a feature room that could use a bit of a lift. Paint can work wonders in most any room.
2019 is all about taking risks, especially in your home. Breaking out of your comfort zone with interior design is something that I am encouraging all of my clients to do this year. If you're a DIY sort of individual, consider reading this reference guide on how to paint a ceiling. If you would prefer to hire a great painter, contact me for referrals.
I love the ability to work with neutral tones on ceilings so if your living room is in need of a facelift, consider a deep grey or perhaps a midnight blue for an added touch of simple sophistication.
3. A touch of class comes with beautiful molding
Molding and millwork come in a plethora of options. It can be overwhelming to decide what is best for your home. One of the more popular molding types is Crown. Crown molding gives a finished look to any room. It is placed where the walls and ceiling meet.
Crown molding is easily accessible, and can also be installed DIY. Be aware when
installing crown molding and don't forget – measure twice, cut once!
4. Knobs, anyone?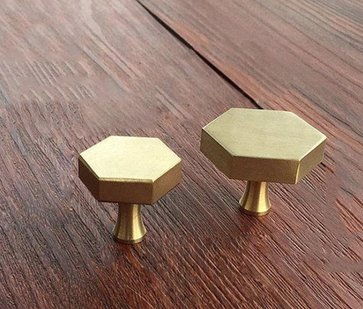 Door knobs are an excellent way to add some quick and easy updates to any room. Door knobs are easy to find in most home stores and online. I love perusing Etsy to see what sort of great handmade options are on the market, like these copper hexagon knobs.
Don't forget – unique knobs can be placed on cabinets too! If your kitchen is in need of a lift, for example, give it life with a statement color or material.
5. Consider a minimalist approach
Spring is right around the corner even though it doesn't feel like it. It might be a good idea to get ahead of your spring cleaning now. There's no better time like the present, right?
Watching 'Tidying Up with Marie Kondo' on Netflix, I was inspired to do my own tidying of sorts. The beauty of cleaning out your home is that you may discover uncovered items you forgot about. Sometimes something old can feel like a new treasure.
Create a sense of calm and simplicity within each and every room. Consider a minimalist approach as a home update for 2019 – it won't cost anything at all!
I am excited about the year that lies ahead, both for my clients and within my own home, too. For more ideas on how to update your home – no renovations needed please contact me here.
Share