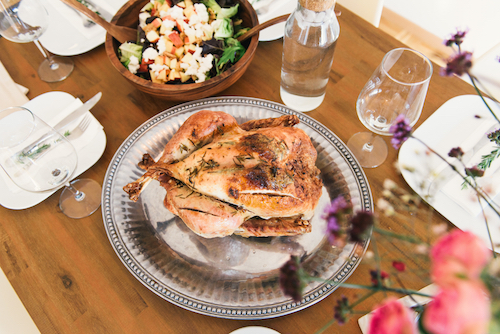 Thanksgiving is quickly approaching, and we are more than excited to share Thanksgiving interior design tips with you. It's a wonderful time to celebrate with family and friends over a beautiful feast of warm, hearty food. If you are hosting Thanksgiving Dinner this year, preparing a turkey likely isn't the only thing on your mind – decorating the dinner table is also high on your priority list. That's why we have put together our favorite Thanksgiving interior design tips and personal touches to make your holiday dinner table one to remember.
Here are 10 Thanksgiving interior design tips for your dinner table.
1. Mix and match vases
Vases filled with beautiful, Fall foliage will be an excellent compliment to your dinner table this year. Mixing and matching vases on your table will provide an eye-catching allure that will bring personality to dinner.
2. Bring in an accent color
…and deter from the ordinary! Instead of integrating the traditional oranges, yellows and browns into your home, consider a different accent color that can be brought to your table and other areas of your home. Bright, spring red, aqua greens and greys can be used thoughtfully with accents to create a unique dinner experience.
3. Layer your table with different textures
This can be done through fabrics, such as tablecloths, chargers and napkins. Different textures provide depth to your dinner table, and are a great compliment with varying accent colors.
4. Incorporate candles on your table
There are a plethora of candle options on the market, and we love supporting local merchants and small businesses during times like Thanksgiving. With the candles we purchase, it's often fun to use them in different ways, such as tall candle sticks placed along the table, or placing candles in vases.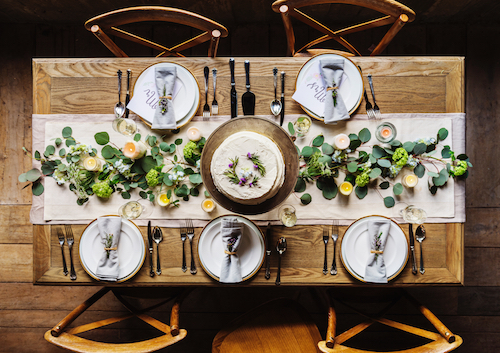 5. Add unique floral arrangements
This is the year of new and different, can't you tell? Thanksgiving interior design tips for 2017 are truly one of a kind, which is why we suggest adding unique floral arrangements to your table this year. Consider adding fruits to your arrangements, such as oranges, cranberries or other gourds. These are fruits that simply make you think about the Holiday Season, but are an interesting feature to your table.
6. Ensure your table encourages conversations
Tall, thin candles are great, of course; however, it's important to keep your centerpieces low. Tall centerpieces will hinder conversations, whereas low arrangements of florals and candles will encourage your guests to converse with one another. If some of your guests are meeting for the first time, consider having name tags or seating cards.
7. DIY centerpieces can be fun!
To encourage collaboration, a great idea is to have a few of your guests bring DIY centerpieces. Don't set a theme, simply invite them to be creative. They won't match, and so what! It's a fabulous way to bring your guests together.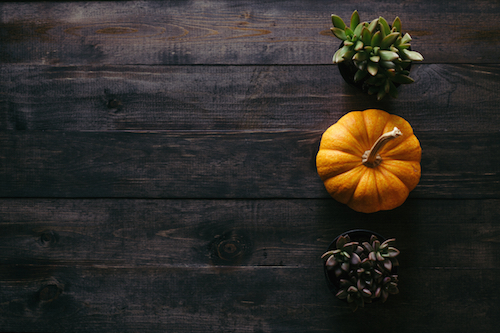 8. Place old family photos along the table
If you are hosting dinner for your family exclusively, consider going through old photo albums and find ten of your most favorite family photos. Pull them from across decades, as this will give everyone at your table a chance to tell old stories and share memories with others.
9. Have an arts and crafts table for the kids
If you have children coming to your Thanksgiving Dinner, consider having a separate table for them – complete with arts and crafts. Perhaps they can put together wreaths, or grab a few Thanksgiving coloring books at your local store.
10. Send your guests home with leftovers – thoughtfully
Leftovers can be done simply and thoughtfully, so why not send your guests home with a meal for the next day? Head to your local arts and crafts store, and grab some small cardboard boxes. If you have children in your family, encourage them to find their favorite markers in the store, along with some glitz and glitter. Your children can create a cardboard box for each guest, complete with their name along the side. This is a unique and thoughtful way of sending your guests home with a warm meal for the following day.
From MDK Designs, we wish you and your family a fabulous Thanksgiving Dinner. It is truly a time to be thankful for what we have, and dream for what our future holds.
Share