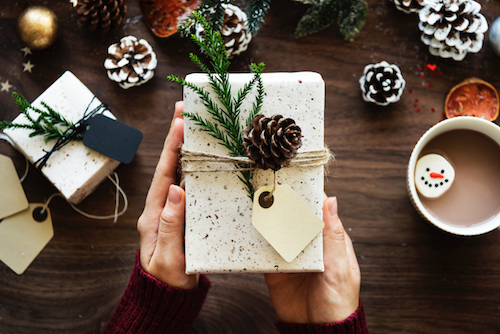 Looking for Holiday Gift Guide Ideas for 2017? If you're a designer like myself, you look for creativity anywhere – from clean, sophisticated lines in the homes of my clients, to the way in which gifts are wrapped and given over the Holiday Season (yes, we look for detail and inspiration everywhere!) Yet, sometimes we all need a bit of inspiration ourselves, especially with a holiday gift  – which is exactly why I've put this Holiday Gift Guide Ideas blog together ahead of the Holiday Season. I love buying gifts no matter what it is, I actually bought my friend some home security camera equipment last year! Coming from myself, an individual who loves to create DIY projects of all kinds, these are quick, easy gifts that you can prepare within just a few hours.
Below is my 2017 Holiday Gift Guide Ideas – gifts for the interior designer in your life.
Mason Jar Cookie Exchange
I love this idea with a group of friends, or perhaps those of us who have kids. Gather 4-5 of your friends or family and bake a few dozen cookies. Place your cookies in simple mason jars (or your children can have some fun and design the jar!), with enough to give one jar to each of your friends or family. After your Holiday dinner, it's time for the exchange. You'll walk home with a plethora of cookies, made from love from your friends and family.
DIY Peppermint Bath Bombs
Who doesn't love bath bombs? When it's done DIY, they're made even better. Home Talk has a great recipe to create your very own Peppermint Bath Bombs here – all you need is baking soda, citric acid, grapeseed oil, peppermint essential oil and a spray bottle of water.
Unique Craft Kits
For the crafter in your life, they can never have enough materials for sewing. Head to your local craft store and grab a small box. Collect your favorite threads, a small pair of scissors, some pins and other materials that your little crafter would love. Write a note of "thanks" to place within the craft kit.
Coffee for the Teacher
Don't forget your children's teacher during the Holiday Season! We know how much teachers love caffeine, and this time of the year is no different. Grab a travel mug at the store – just a simple mug. Then, grab a wool sock from your craft store or closest clothing store. Slip the sock over the mug and cut off the bottom, so the cup can lay flat. Tie a ribbon of yarn around the cup and voila! A cute gift for your favorite teacher. Don't forget to include the coffee beans.
The Gift for Families With Young Children
We all love growth charts, right? It's so wonderful to look back when your kids are in their late teenagers years, or as a young adult, when you reminisce on the past. That's why I love the idea of a growth chart. Find a 6' board, grab yourself a black marker and painters tape. Measure and mark in 1 foot increments, then measure and mark within inch increments. Make a stencil for each of the foot numbers and indicate 1 through 6. Add a coat or two of stain (after the marker has dried, of course!) This is a wonderful gift and one that is certainly memorable.
For the Organizer In Your Life…
We all have that one friend who is hyper organized, so why not help them as part of the process? Grab a chalkboard that can be framed (or already comes framed) that will suit their home. Purchase a few colors of chalk and tie with a big red ribbon. This is perfect for the urban organizer's modern home.
2018 is quickly coming to a close, and we're putting the finishing touches on Holiday gift ideas for our loved ones. These Holiday Gift Guide ideas should be a great aid as you prepare your final task list for the Holidays. From MDK Designs, Happy Holidays to you and your loved ones!
Share