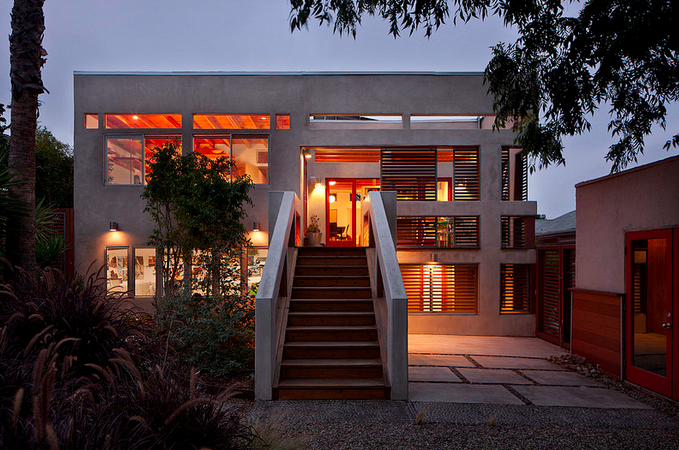 We always say that beauty is not everything; it's on the inside, that counts. After all, the interior should always exceed that of the exterior in every way, right?
We're diverting ever so slightly from this notion with home design, and it comes down to one reason – curb appeal.
When selling your home or even having guests arrive for a dinner party, the exterior is the ultimate first impression. From a well-manicured lawn to the color of your home, from the stone on your driveway to the hedges outlining your property, the curb appeal of your home really is everything.
So how can you ensure your home has the curb appeal it needs for resale or those dinner parties?
Ensure your home has an updated paint color.
Your home color ultimately depends on the style of your home – traditional, modern or urban, perhaps? Although the color of your home is dependant on your style and overall taste, it is important to keep the quality updated. One of the worst mistakes you can make during the selling process is to not have your home's exterior well-kept. Should you see chips on the siding of your home or discolor after weather and time, it is important to invest in a refresh of the exterior.
Invest your time in landscaping.
Investing in landscaping does not have to be a monetary investment; in fact, we encourage you to get outside and have fun with your lawn and garden yourself! From ensuring your lawn is freshly cut to removing weeds from your flower bed, investing time in landscaping will go a long way to the overall look of your home. Should you need to hire a landscaping company, we advise you read reviews and do your due diligence before having a business arrive on your property.
Keep exterior material clean and updated.
From stone on your back deck to the material on your driveway, ensure your exterior material is both clean and updated. This means pressure-washing yearly, removing the grit and grime accumulated from the weather, and replacing any material that requires updating. Much like investing time in landscaping, make sure you are investing time and resources in the materials around your home. Pressure-washing yearly can go a long way to long-term protecting and support of your exterior materials.
The curb appeal of your home is second-to-none in terms of importance and a first impression. How would you rate the curb appeal of your home? Tweet us.
Share