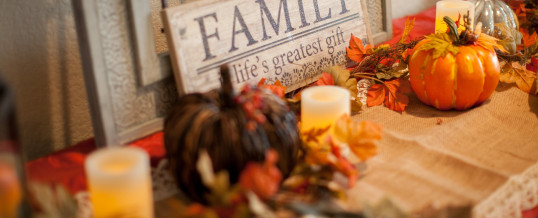 Thanksgiving is quickly approaching, and we're getting so excited about all of the potential your home has to offer for decor and DIY opportunities for the Holidays. From table settings to floral arrangements, we encourage you and your family to work together and prepare your home for celebration during this joyous time of the year.
To prepare for Thanksgiving, below are 4 decor ideas you can work on now as a family to prepare your home.
Create a message board
This is one of our favorite additions to a home during Thanksgiving. As family or guests arrive for your delicious dinner, have them write what they are thankful for on a paper leaf or note and pin it to a board or frame you have constructed. Get creative and cut paper leaves from old books or scrapbooks. We encourage you to find a safe place in your home and store this away for the year, and re-visit your notes the following year. Have your words of thanks changed, or have they remained the same?
DIY Centerpieces
Get creative with your centerpieces. We love using dried floral and pine cones to bring the outdoors, inside. For accompanying table additions, use re-purposed candle-holders and display small pumpkins. You can find such candle-holders at the antique store or thrift store, and spray paint with an acrylic color to align with your table items and achieve a unified look.
Rustic Candles
We love rustic candles. For an easy, handmade candle holder, we love the look of hot-glued ears of dried Indian corn around a candle, with wrapped twine around the base. You can display this candle on your dining room table, side table or kitchen counter. Exchange the Indian corn for pine cones, if this is an easier addition.
Fall Leaf Wreathes
There is no better welcome than that of a gorgeous, fall-inspired wreath on your door. Welcome guests with an easy-to-make leaf wreath by using items you can find in your very backyard. Using small scissors (be safe!), cut slits in the centers of fresh leaves or pliable dried ones from a crafts store. String the leaves onto a wire wreath form until it is full.
From our family to yours, we wish you a very happy Thanksgiving with your family and friends!
Share