Super Bowl 50 is right around the corner. With the Panthers and Broncos set to battle in San Francisco, and last year's average audience drawing 114.4 million viewers, there are sure to be parties on just about every block in your town.
If you're hosting this year's Super Bowl 50, is your home prepared for kickoff? From beverage tags to table decor, there are so many ways your home can become festive in no time.
We've put together ​7 Ways to Prepare Your Home for the Super Bowl. Read on.
1. Creative Coasters
We love the idea of bringing the turf inside your home. Head to your local hardware store and pick-up a small amount of turf or faux grass. Cut your turf into small circles (it's easier than you think) and place them on various side tables. It's a unique, creative touch.
2. Create a French Fry Bar (Yum)
When you're not in a bar, you can bring your favorite sports bar snack home. For a DIY project, wash and cut potatoes into wedges or small french fry strips. Sprinkle some oil and place them in the oven, so you can create your very own, home made french fries. For an additional kick, you can also pick-up sweet potatoes or yams and create sweet potato french fries. To truly re-create the bar feel, serve them with a variety of toppings like spicy aioli or home made ketchup. Voila.
3. Food Wraps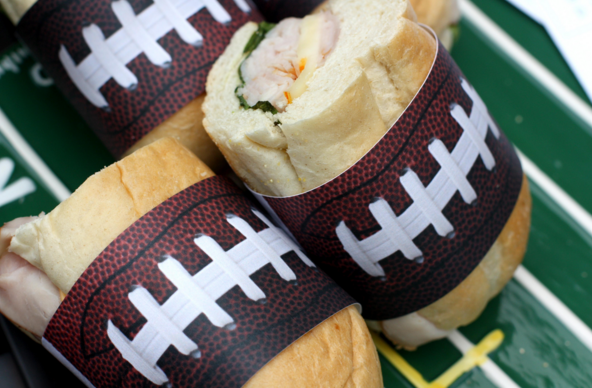 Making an easy, eat-with-your-hands Super Bowl meal? Bring your meal planning to the next level with downloadable wraps. We love this downloadable PDF here. All you need to do is print and place around your sandwiches or wraps. It's easy.
4. Create Your Own Concession Stand
You can turn an ordinary food table into a "Concession Stand" in as easy as 1, 2, 3. Use  artificial grass as a table cover, and add an easy DIY printable banner. Create treat bags filled with your favorite stadium food – like popcorn, pretzels and mini-donuts.
5. Decorative Beverage Tags
Everyone needs beverage tags; to ensure your beverages aren't placed in the wrong hands, it's important to leave markers and tags around your home. For this event, head to your local craft store and pick-up ribbon, green, white and brown paper products. Cut small circles and one oval. See our photo to the left for inspiration.
6. Party Games, Anyone?
If your guests haven't participated in a football pool this year, have each guest predict the winner's final score. Playing is simple – write each guess on a tag and tie it to his or her beer stein or glass (remember the tags we created above?) Whoever ends up closest to the correct score wins.
7. Half-Time Entertainment
If you're not a fan of the half-time show (or simply don't want to sit through commercials) create your very own half-time entertainment. Grab a Polaroid and some fun props – like footballs, pom poms and even a megaphone. Encourage your guests to take their photos home and even share on social media.
Whether you are hosting 5 close friends, or perhaps your home is filled to the brim with neighbors, we are sure this Super Bowl 50 will be outstanding. Turn your home into a festive party to remember!
Share