With the Holiday Season approaching and the New Year coming quicker than ever, we're starting to think about how to prepare your home for 2017. The latest trends are being released and palette forecasting is happening, which means that dream boards are everywhere here at MDK Design Associates.
That's why we're ready to share exactly what we've found over the last few months. As we're moving into the Winter and getting ready for a brand new year, we want you to start thinking about how you can make small changes in your home that result in a big difference.
Here are 6 ways to prepare your home for 2017…
1. Take inventory of your furniture.
Furniture, including beds, are expected to change dramatically in 2017. Upholstered beds are expected to be incredibly popular, and will replace timber bed frames that are currently on the market.
For couches and chairs, don't be afraid to think big; floaty silk for dining room chairs, or deep hues for the living room. One thing we know for certain – pastels are out.
2. Determine if it's time for a wall change.
Is it time to change your wall color? Better yet, are you ready to make a big change (and a design splash?)
We are loving the idea of cork on walls. Not only is cork an uber stylish material idea, it also adds warmth and texture to spaces. Think about using it in your home office, or on a small wall in your kitchen.
Bonus: Cork can also absorb noise in a home.
3. Consider home automation and smart products.
Smart products are on the rise big time. Revenue in the "Home Automation" segment is expected to reach 3.6 million USD in 2016 alone, which means that it's time for you to pay attention (if you're not already!)
I am loving the Nest Home Thermostat in particular; with the Nest, you can control the temperature in your home using your smart phone. It also allows you to set schedules – for example, you can decrease the temperature of your bedroom at night as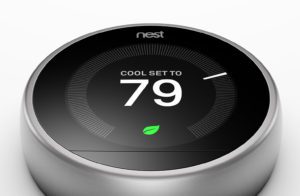 you're sleeping, and increase the temperature in the morning just as you wake up. It saves you time, and it saves you money on your energy bill.
Here are some other great options for home automation products. It's a great way to prepare your home for 2017.
4. Focus on the kitchen.
Does your kitchen feature cool tones (think whites and greys)? While they were hot in 2016, warm materials – like terracotta tiles or sleek wood – will be the new replacement.
Hidden appliances are also all the rage for 2017. While we still love stainless steel appliances, consider appliances that easily meld into your design scheme. Hide that dishwasher or tuck away your microwave.
5. Is it time for a home office?
If you have a flex room in your home, is it perhaps time to update it and create your own home office?
Remote work is increasing (more than 50% of the global workforce telecommutes), which means that you could spend more time in a home office than on your corporate desk. Consider updating a flex room in 2017.
6. Get ready for Spring Cleaning.
No one loves Spring cleaning (and if you do, share with us on Facebook). If you're finding that you have an extra hour or two on the weekends over the next couple of months, consider using it to get ahead of Spring Cleaning. Although it might seem like a chore, it will help you get ahead of the daunting tasks ahead as the weather becomes warmer and the outdoors need your attention.
We're preparing for 2017 here at MDK Design Associates, and we can't wait for you to do the same. As you're dreaming of updates and ways to prepare your home for 2017, you can make to your home in the New Year, consider these six tips – and get creative!
Share