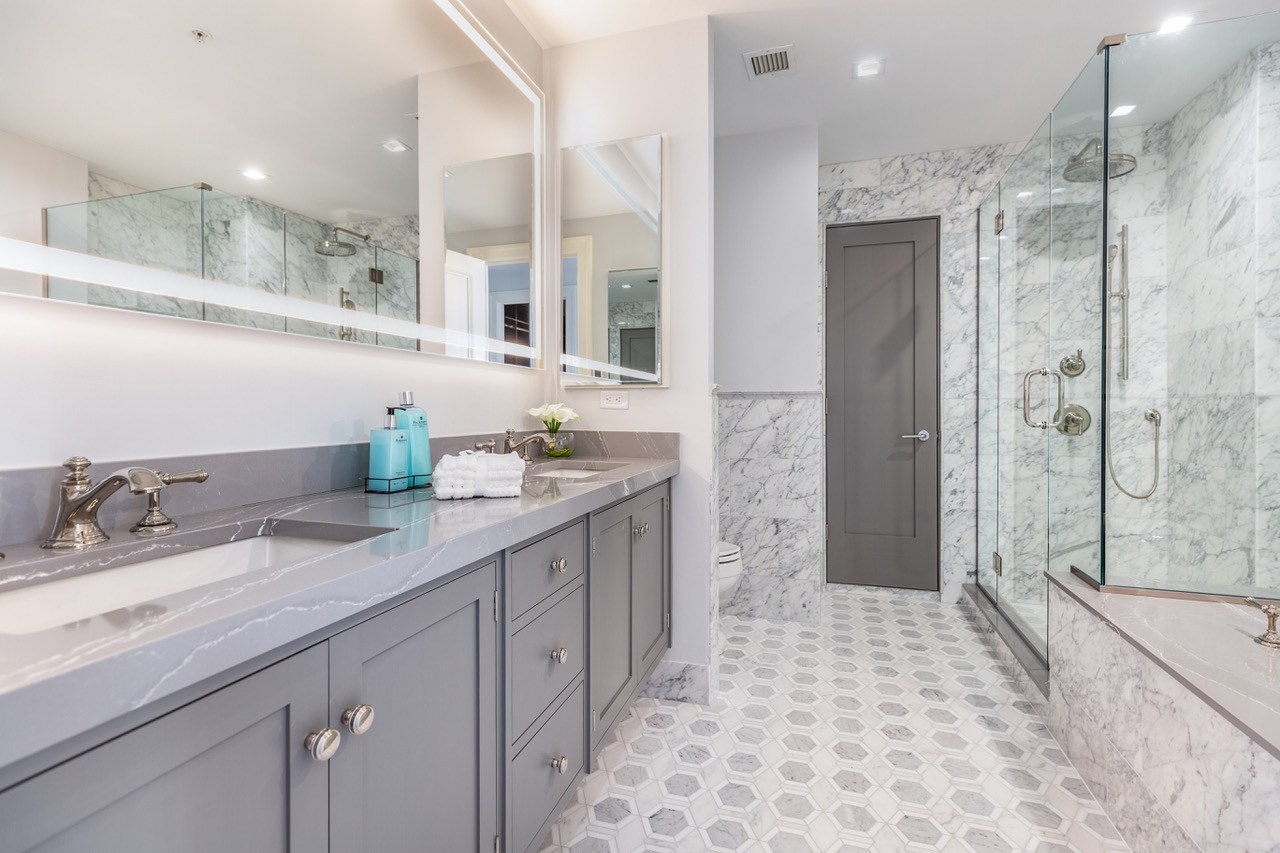 Bathroom Design
Bathroom design ideas include tile, flooring, cabinetry, fixtures, design accessories and more. Bathroom design is one of the most important areas of your home. From unique tile sourcing and design to steam showers and aromatherapy, your bathroom is a space for relaxation. Integrating spa and serenity into one room, the MDK Designs approach is to bring your bathroom design ideas to life. A vision which focuses on collaboration and involvement between you, your family and MDK Design Associates.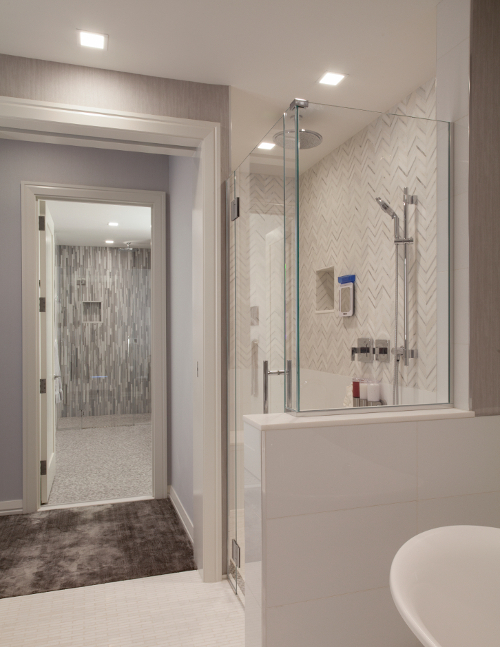 How to work with an interior designer to turn your bathroom vision into a reality
Before any project begins, it is essential to share your vision with your interior designer. You likely have inspiration you are looking to draw from, and a visualization for your bathroom design. As your designer takes in such a vision, this is the opportunity to bring it to life. MDK Design Associates takes your lifestyle, budget and vision into consideration. Melanie Kokoros, Owner and Interior Designer develops a design concept that is tailored to you.
The first step in a collaboration is the design concept where we develop floor plans and a layout. You may envision a steam room to be placed in a spacious master bathroom, but what does this look like in proximity to the hydrotherapy tub? MDK Designs will work alongside you to develop a bathroom design floor plan that aligns with your vision. Once we agree with a floor plan, we further develop the design with 3-D renderings and material storyboards. The 3-D and colored renderings help clients understand the design in real time.
At this stage, Interior Designer Melanie Kokoros and her team at MDK Design Associates will begin to source materials. The design team reaches out to artisans and craftsmen. As trends and materials change and improve, experienced and knowledgeable home designers at MDK Designs are constantly educating themselves on the latest styles and modern concepts. Resources are shared with you so we can help bring your ideas to life.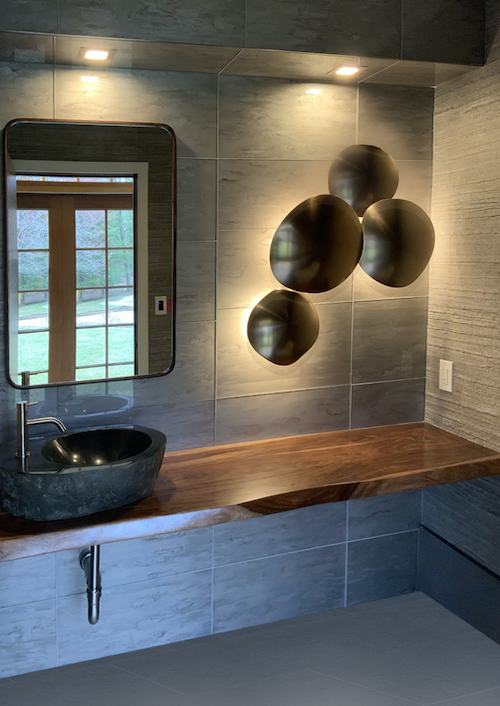 Bathroom Design Trends
Interior Designers at MDK Designs emphasize large wood planks, oversized porcelain tile, and a combination of various materials and unique patterns. Varying shapes and designs, and bright new looks are current bathroom design trends. You may have an interest in eco-friendly flooring options, customized tile design, and unique solutions that are made just for you and your bathroom. This is the time to ask your interior designer questions, such as – "porcelain vs marble – what should I choose?" Quartz vs Stone, which is more durable? Cost and budgets?
Melanie will provide professional and experienced feedback to help you make the best decisions; porcelain, has no maintenance and is a very hard and dense material which makes it water resistant, stain resistant, and less likely to fade than marble. Marble is porous and can soak up stains over time. This is an excellent conversation to have with your interior designer. MDK Designs has over 15 years of experience to equip you with information to make the decisions for your home.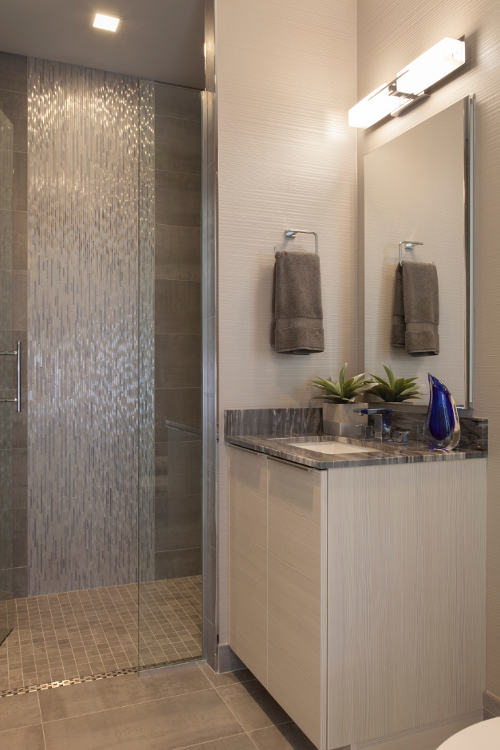 Collaborating with MDK Design Associates to create unique concepts for your master bathroom – within your budget
Whether you are developing a master bathroom, guest bathrooms or unique powder rooms, you have come to the right place. Working with MDK Design Associates means you have a collaborator and expert to develop unique concepts for your home. In parallel with the development of your floor plans, discussing a budget is key, as this will impact materials, sourcing of tubs, bathroom fixtures and whether or not to integrate heated floors, lighting and more.
Establishing a budget is essential to understand what is possible from a vision perspective. You may be developing a bathroom within a small space, or perhaps you are envisioning a luxury master bathroom within your home. This budget will include all aspects of your floor plan, materials to source, luxurious additions such as heated towel bars, and a line item allocated for structural changes that may need to be done.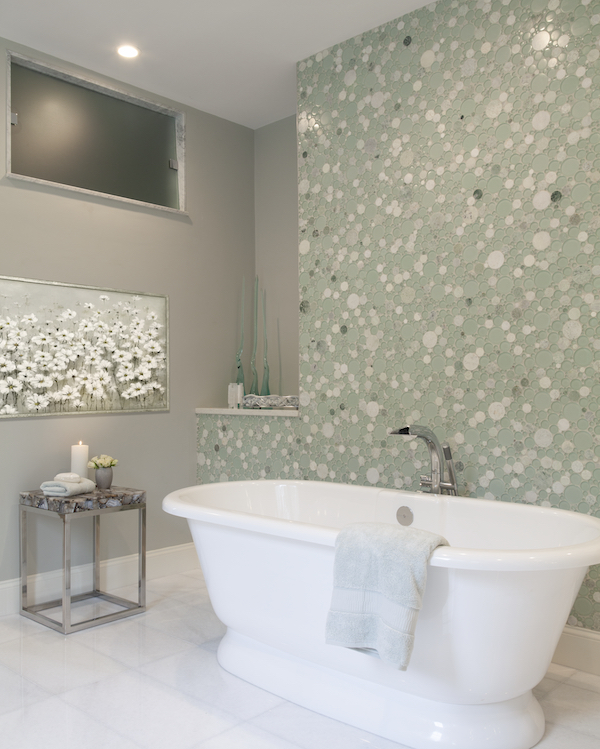 We don't stop until you're thrilled with your bathroom
From floor plans, budget development, to project management, we won't stop until you are thrilled with the outcome. MDK Design Associates will be with you every step of the way, from the first time your contractor enters your home to the various stages along the way. Melanie Kokoros will be part of on-site visits along every milestone, project management, providing feedback as the materials are delivered and placed within your new bathroom.
Open and transparent feedback is essential along this step of the journey, as MDK works toward delivering on your vision.
Get started with your unique bathroom design ideas
Working with Melanie Kokoros, founder of MDK Design Associates and her team, will develop and design the perfect spa oasis within your bathroom. With over 15 years of experience in interior design and designing bathrooms for our clients, Melanie has worked with all projects from powder rooms to luxurious master bathroom suites. For more information, connect with Melanie and her team here.