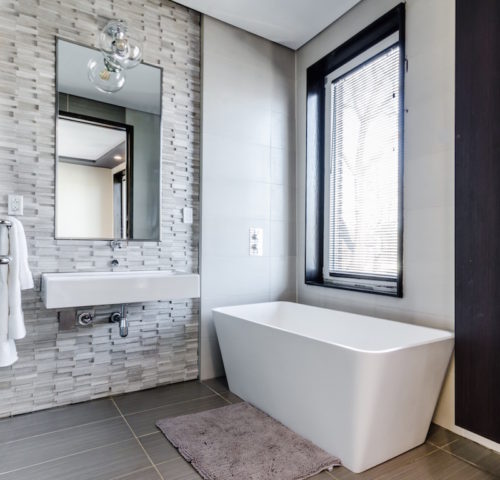 The most popular renovation projects in the home are often bathroom design and kitchen updates. Kitchens and bathrooms are the two most used rooms of the home. The phrase 'the kitchen is the heart of the home' is well known, not only because its where meal preparation takes place but because its where the family tends to gather. When the kitchen and bathroom are outdated, it can change the overall ambiance of the home. Is it any wonder that kitchens and bathroom renovations are the most popular home improvement projects?
Statistically speaking, renovations in these areas of your home can deliver an additional home value of between $10,000 to over $49,000. Dependent on the intricacy of the remodel, you can freshen up your bathroom design and kitchen appearance or completely renovate these rooms to achieve your dream space. As we move into the final half of 2018 and the new year, you might be considering a minor to significant renovation in your home. Why not start in the kitchen and bathroom?
Within these areas of your home are trends that you certainly should be aware of – and trends that we are excited to share. After completing so many impressive renovations in these areas of the home, we have compiled the best 6 trends for kitchen and bathroom design that you can try now.
Revitalize Your Kitchen and Bathroom Design with Tiles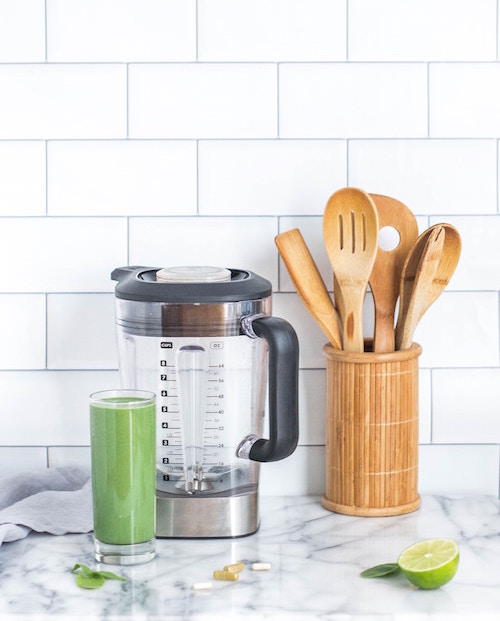 There is almost nothing better in the kitchen and bathroom than brand new tiles. As we move into 2019, subway tiles are trending. Subway tiles are chic, simple, and a classic. With subway tile, you can select simple color options like black, white and grey to make a dramatic design statement. There are many different materials to choose from such as ceramic, natural stone, marble or glass. Due to the nature of kitchens and bathrooms, the likelihood of spills, splashes, and sprays is rather high. Tiles are the perfect way to protect your floors and walls from water damage. There are many ways you can utilize tile in these rooms.
Appliances are Bold
In 2018 we saw the advent of bright appliances – blues, yellows, even reds. Stainless steel was the color choice of designers in the past. Now bright appliances have a place in the home. These appliances are typically in the form of stoves and microwaves. On a smaller scale, you can add a splash of bright color with toasters, kettles and even brightly colored utensils.
Colors are Bright and Revitalized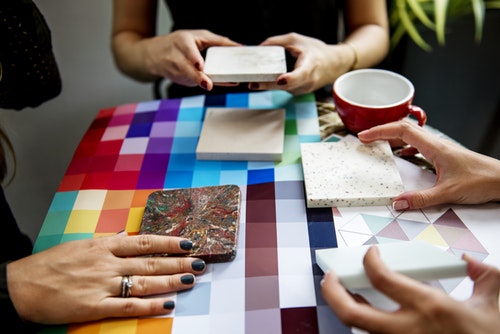 Color sets the tone for the design and atmosphere of any home. Even the simplest pop of color makes a significant impact in a room. The kitchen and bathroom are especially notable, and we are excited about the palette that is coming for 2019. This coming year, the favorite color choices will be broad and have a revitalized range from neutral naturals to charcoal to orange domination. Consider vibrant and bold yellows as well as blues. We'll also see more deep, dark and intense shades.
Kitchen Countertops are Natural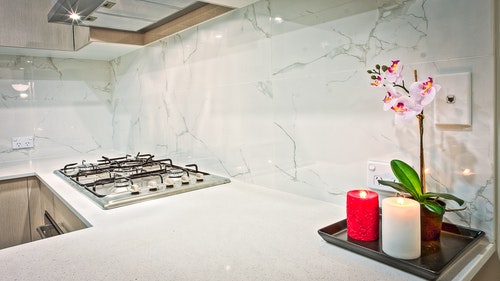 We've gone through granites, engineered stone, and others. This upcoming trend is all about natural, real stones and countertops. An advantage of natural materials is, of course, the beauty and uniqueness it provides. The uniqueness is simply unparalleled by any form of man-made stone, as every single piece is different. Natural stone is a fantastic investment in your home.
Do Waterfall Edges Work in Your Kitchen?
Waterfall countertop edges, which is also referred to as a riser or infinity edge, offers clean lines that are not seen in traditional horizontal countertops and cabinetry. Waterfall countertops provide a smooth and flowing appearance. They are particularly impressive if they are made from granite, quartz or other stone. Waterfall edges are certainly not for everyone. It truly depends on the room in question. More traditional kitchens can benefit from a paneled countertop, while modern kitchens can consider the waterfall option.
You Might Consider Prep Sinks in Your Kitchen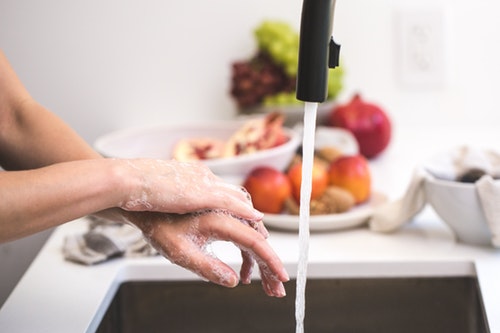 Kitchens are becoming an entertainment focus in the home, with prep sinks emerging as one of the latest and most significant trends. Prep sinks and bar sinks were, of course, always present – however, they are finding a new need and purpose as we move into 2019. Prep sinks provide an additional area to utilize if you are entertaining or have an important meal to create. We predict they will continue to be a focal point in the kitchen through the upcoming year.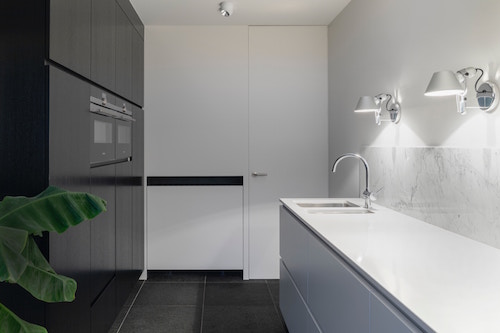 Updating your kitchen and bathroom design is a worthwhile and exciting way to bring new life into your home. Investing in a remodel or renovation in these areas often bring great opportunity for both home value and resale value. You will also enjoy cooking and entertaining in the kitchen and using your bathroom space more every day. To learn more about how you can renovate your kitchen or bathroom, contact MDK Design Associates here.
Share