With Spring upon us and the weather starting to turn for the better, what better way to celebrate sunshine than with a quick Spring Interior Design refresh in the home? Now is the ideal time to clear out anything you're no longer in love with (or even really like) and give your interior decor a refresh. To help start this process, we've gathered the latest home trends that you should be prepared for in the Spring. Below are the 7 Spring trends you need to watch for now.
1. Black and white decor 
Minimalism is totally in for Interior Design Trends in Spring 2016, and so is black and white decor. Although color palettes were all the rage last Spring – especially palettes with pastel features – this has been replaced with black and white. In fact, black and white decor has increased 40 percent since last year on Pinterest.
2. Minimalism is in
Minimalism is here, and it's here to stay for 2016 Spring Interior Design Trends. From kitchen decor to living room furniture, and even master bathrooms, opt for minimalist, yet functional.
3. Marble accents
We haven't seen marble for a long, long time, but it's back for the 2016 Interior Design Spring trends. It was huge at the NY NOW showcase, but don't worry – it won't break the bank. This Spring trend is all about the small touches of marble, such as clocks, coasters, additions for your side table and even candleholders. Think minimalistic, remember?
4. Light, fresh flooring
Though dark, fresh hardwood was in for 2015, light and fresh flooring just screams 2016 Interior  Design'Spring' trend. We're seeing plenty of sophisticated gray hardwood flooring – and don't be afraid to pair this with wooden wall art or even an accompanying wood dining table.
5. Black stainless steel appliances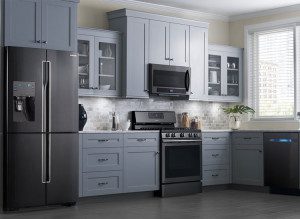 To accompany the light and fresh flooring, we're loving the Interior Design trend of black stainless steel appliances. Houzz even predicts that this is the Interior Design trend of the future, and we're excited to see it kick off in Spring.
6. Statement bathroom mirrors
Although a plain, rectangular mirror will absolutely get the job done (it's functional, we get it), we believe this will be the year of the statement mirrors, especially in bathrooms. Look for unique mirrors with vintage frames, or even smart mirrors with LED lighting.
7. Country kitchens
While 2015 was the year of vintage, Spring of 2016 will be the season of the country kitchen. Modern and rustic farmhouse kitchens are all the rage, especially on Pinterest.
---
From black and white decor to country kitchens, from statement mirrors to light and fresh flooring, there will be plenty of 2016 Spring Interior Design trends that any home will love.
Have questions about these trends? Contact us here.
Share