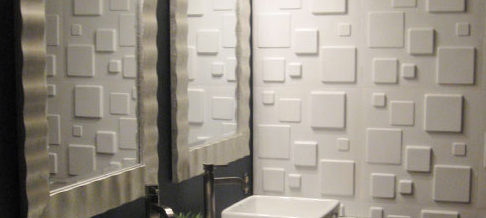 We've all been there. You walk into a new home or hotel and you enter the bathroom,
only to find that the lighting is dim and dark, or light and fluorescent. It is nowhere near perfect,
and you're unsure how your make-up or outfit will look in natural lighting.
With this in mind, how can you properly light your bathroom to ensure yourself –
and all visitors – never step foot in a poorly lit room in your home again?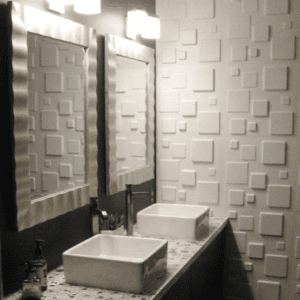 Lighting Options 
With so many options on the market, it can be difficult to determine the lighting that suits your home best. First and foremost, you should ensure that light sources are placed so that your light emanates from above, below, and both sides of the mirror. This technique is called cross-lighting, which is used with the purpose of eliminating shadows. It eliminates shadowing in your bathroom, allowing you to have a proper view of not only your bathroom accessories, but your makeup and hair as you're getting ready to start the day.
To ensure energy efficiency, we recommend exploring LED lighting options. With a long lifespan that uses approximately 85% less energy than halogen or incandescent lights, this option provides an excellent source of lighting with a feel-good efficiency. LED can also achieve the same amount of lumens while using a smaller light source.
Electric Mirror
A recommended option to explore are electric mirrors. With the ability to provide light while de-cluttering your room, electric mirrors provide forward lighting for excellent visibility. This is a great option as they come in many sizes including customizable and as a medicine cabinets for more storage. It creates a very clean space where de cluttering is key.
TV Mirrors

Have we mentioned we love lighting? TV mirrors are a great addition to the modern, sophisticated bathroom. With an appealing feature that is sure to impress any guest in your home, TV mirrors provide an urban addition to your bathroom, while also providing lighting. You can place them in all wet areas including showers, above your bathtub or integrated into your mirror.
Lighting Control 
Of the utmost importance is lighting control. To ensure your lighting is appropriate for any time of the day, control of your these features is integral to your bathroom's atmosphere. We recommend exploring dimmers or occupancy sensors, adding a sophisticated element to your home.
From lighting and bulb options to control of your bathroom, we want to ensure that the next time you walk into your bathroom, you feel comfortable and proud of the home you have created.
Share