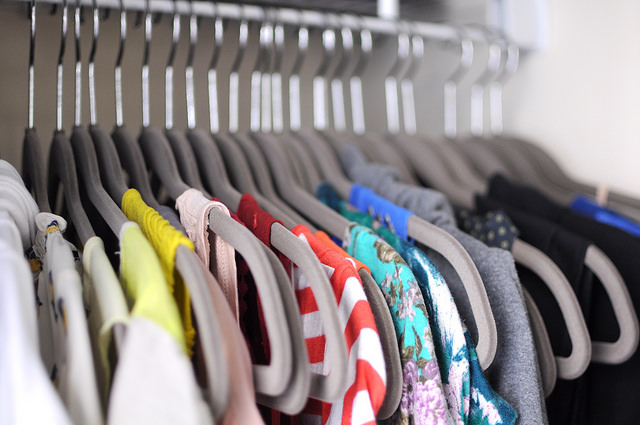 After acquainting yourself with our top trends for Spring, you're likely fretting about all of the interior Winter decor you need to store away and save for just a few more seasons. Equipped with knowledge of the best interior design tips and tricks, we have compiled our suggestions for organizing your home and preparing it for the Spring.
Closet Organization
The often dreaded – but always appreciated – closet organization. Once every season (at the beginning, if possible) take out all of the clothes in your master bedroom closet. All of them – each and every one. Decide which items you need to keep and which items you can donate, sell, or pass along to friends and relatives. Will you really be wearing that red blouse again? Has that sweater defied the odds and stood the test of time, or is it ready to be thrown into the donation hamper? Although this is never an easy task, it's necessary – and fulfilling, we promise. Stick by the rule, If you haven't worn it in a year, it's time to give it to someone who will, this will keep you organized in the future.
Kitchen Cabinet Organization
If you're a fabulous home chef, or if you simply like to whip up a fresh salad and organic chicken every once in a while, it's time for kitchen cabinet organization. From your utensils drawer to your pots and pans, take inventory of what you have. Do you have space for a new juicer? Do you really need that extra, extra large pot for your family of four, or can you pass it along to someone else? Let you kitchen cabinets shine and feel like new again. Once you remove all your cabinet clutter, you will realize that you can live without that apple slicer after all.
What About the Shoes?
We get ladies – we all love our shoes. Unfortunately, some of our attire just doesn't last the way it used to (or we've put so many miles on them, it's just time for a change). Take inventory of each and every pair of shoes around your home and decide whether or not you will be using them in the Spring or ever again. If your shoes are so beat up not even the best shoe cobbler can save them, up it's time to put them in the trash pile. .
For those Winter boots that we absolutely need in these Boston snowfalls, be sure to keep them around – but perhaps place in storage until November arrives once again.
Take Inventory of your Home
Much like we suggest with your closet and shoe storage, visit each and every room in your home with an open mind. As Spring comes upon us, it's time to reflect on our interior design dreams and goals for the upcoming season. Take inventory of your home – and don't be afraid to use a critical eye. Does your living area need some TLC, or is your bathroom ready for a refresh? With the flowers beginning to grow and the sun shining through the clouds, Spring allows us to reflect with an open mind.
Organization comes in many shapes and forms to individual people, but we hope our recommendations will help lead the way for you.
Are you planning on organizing your home this Spring? Share your photos with us on Twitter. We would love to feature them in an upcoming blog post.
Share