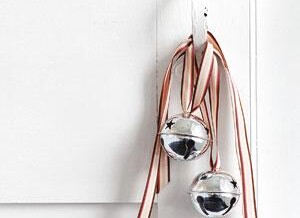 We're well into the month of December, and it's time to switch focus on decorating for the Holiday Season. You've successfully hosted your family and friends for Thanksgiving (high five!) and your loved ones are now looking to you for advice on your decorating tips for December.
Are you ready to give them answers? 
Thankfully, we've put together our top 10 decorating tips for the Holiday Season, so you can prepare your home with everything it needs to celebrate December. We've selected DIY, easy-to-create decor ideas so you can prepare your home in a flash.
1. Fill your own ornament.
Head to your local craft store and pick-up a few glass ornaments. These ornaments are ready to be filled with just about anything you
can think of – feathers, confetti, tiny pine cones, tree needles, and glitter work well. If you're feeling more ambitious and have some time to prepare, create a miniature piece of paper-cut art using a template (and some careful work with a craft knife) and pop it inside for a beautiful winter effect.
2. Wood slice place cards
If you're hosting a large dinner for the Holidays, you might want to use place cards to identify all of your guests – especially if not everyone is familiar with one another. We love the idea of wood place cards. Creating these are easy. Head to your local decor store to grab the number of wooden blocks for place settings you'll need – or, if you have access to a fallen large branch in your back yard and can chop the branch into small pieces, you can create your own wood chips. Next spray paint your chips in gold, silver or white. Once dried, use a black marker to write the names of your guests on the wood chip. Voila!
3. Give your home some front door flair
It's easy! Let visitors jingle all the way into your home. Find some big silver bells and festive ribbon at your local decor store and tie them together. The more ribbon, the better. Attach this to 3 or 4 doors in your home.
4. Traditional wreath – with a twist.
We love traditional wreaths, but we love them even more when they feature a modern twist. With a bit of spray paint, you can transform a wreath into something befitting a winter wonderland. Grab a can of spray paint from your local decor store in frosted white, silver or gold, and spray away.
5. DIY Advent Calendar
Advent Calendars are oh so popular with children, but why can't you use them for the adults in your family, too? Count down the days until December 25 with little paper envelopes, ideally sized to hold all sorts of surprises: from candy and tickets to tiny toys and little notes. We love the idea of using rubber stamps to ink the dates on the envelopes. You can also embellish these by adding tags, string and clip art. Then, simply pin the envelopes on a pretty corkboard to complete the look.
6. Pinecone ornaments
The easiest DIY, but one of the most appealing, are pinecone ornaments. If you have access to a backyard or park with pinecones that have dropped over the last week, grab a 5-10 and bring them home. Ensure they've dried, and spray-paint white, silver or cold on the pinecones. They really pop against evergreen boughs.
7. Festive centerpiece
We love the idea of festive centerpieces, and this one is easy. If you have access to an extra long tree limb in your backyard or park (make sure it's already fallen!) bring this into your home. It's entirely up to you if you spray paint the limb – we think the centerpiece looks great either way. Next, knot lengths of twine around the branch and hang it from a row of a number of hooks. You've immediately made your table feel more quaint and intimate.
9. Festive flair on your stems
Can you tell we love ribbon? For this DIY, use leftover ribbon to tie around the stems of your Champagne flutes or wineglasses before dinner and during cocktail hour for an extra bit of festivity. The best part about this DIY project is that  by choosing a different color for every glass, you will help guests keep track of their drinks. It's a win/win.
10. Wood Slice Ornaments
Still have some wood slices left from your place cards? Consider using these as ornaments. All you need to do is paint a simple design (a tree or star) or word (noel or joy) on the wood with white craft paint, and drill a hole for hanging. This addition gives your tree a rustic, yet sophisticated look.
With these 10 DIY decor ideas, we're certain you'll be ready for the Holiday Season. After spending time with family and friends, and partaking in a meal to celebrate the Holidays, your home will shine with such beautiful, festive decor.
Images: CountryLiving.com, Houzz and RealSimple.com
Share